DJI Spark Review
The DJI Spark is a palm launchable drone packed with intelligent and intuitive features to make flight and video capture an amazing experience.
Features
Quick Launch
The Quick Launch feature is a truly unique and techy innovation that allows you to launch the DJI Spark straight from your hand. And if that isn't impressive enough, the how is even better—it does so by face recognition. It will only take off when it recognizes your face. Once it takes off, it hovers in place until you're ready to proceed.
Hand gesture control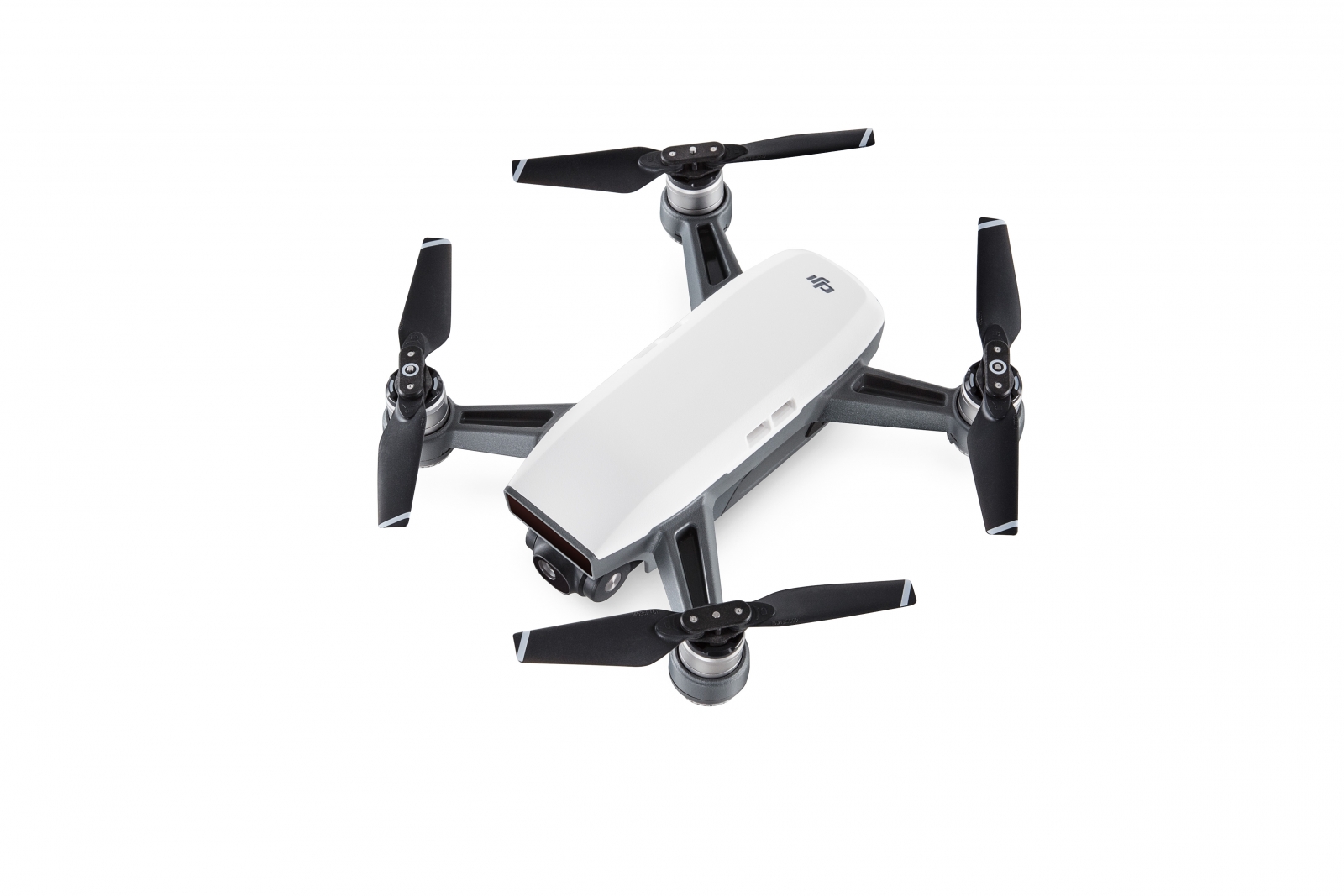 Once in the air, the Spark can be control via hand gestures. You don't need your phone or a controller—only your hands. This allows for a more organic experience; without the need to keep your eyes on buttons all the time, you can stay focused on the Spark, what it's doing, and what you want it to do. Flight control and propulsion are intuitive for a truly immersive experience.
Intelligent flight modes
The Spark can fly intuitively and capture beautiful videos thanks to its smart design. These flight modes can be selected and customized with just a few quick taps for minimal hassle and maximum control.
Mechanical gimbal stabilization
The mechanical gimbal stabilization reduces video shakiness even on windy days. The camera intelligently repositions itself to take shake-free shots every time.
DJI 4 Go App compatibility
The DJI 4 Go App allows you to interface with your smartphone for easy video editing, effects and easy sharing on social media. You can also use it to apply editing templates for a quick editing experience for those who want great video looks with ease. You can also apply filters to get the artistic look you're going for, upping your creativity game. Once you're done editing, sharing your video to social media is done with the press of a button.
First impression
The DJI Spark really is as tiny as it claims to be. It weighs only a pound and a half and really does launch from the palm of your hand. I see this as being ideal for hobbyists who simply aren't going to be interested in hardcore, heavy-duty drones but still want the complete drone experience.
Once the Spark launches from your hand and it hovers. You can control it via hand gestures and it's interestingly intuitive how that works. You can tell it which way to go, make it speed up—it's really fascinating and that feature in and of itself will definitely be fun for most to play with for a while. But it also lends itself to a more natural experience. You don't have to keep constantly looking down at your phone or fiddling with a remote control and can instead keep your focus on the drone where it belongs.
The Spark also comes with intelligent flight modes built-in, which can be selected via a quick tap. These modes make drone operation a piece of cake for those who are primarily focused on getting the shots they want and not so much the operation of the drone itself, a great contrast to the hand gesture manual mode. And I like how they allow for different ways to control the Spark—you can even use the remote control, if that's your thing, or your smartphone. So, it caters to a lot of flight styles, for sure.
The mechanical gimbal stabilization is a nice touch. The Spark follows through on DJI's promise of shake-free videos. Videos are nice and smooth. And on that note, I was a little bummed when I saw that the frame rate was 30fps instead of 60fps. But once I saw the video playback, which was nice and smooth in FHD, my fears were completely allayed. No one will know the difference unless they are really into videography.
The accompanying DJI 4 Go App is a nice companion for the Spark. It allows you to edit your videos with ease thanks to presets and templates. This is great for those who don't have their own video editing software or just don't like the hassle of video editing. Once you're done editing your video and making it the masterpiece of artistic videography you always knew it could be, you can use the app to share your videos with your friends via social media. This is a great feature and I use it a lot.
Positives
Quick Launch: The Spark drone launches straight from the palm of your hand via face recognition and hovers, awaiting instruction
Hand gesture control: Forgo remote controls and smartphone apps by controlling the drone via intuitive hand gestures for an organic experience
Intelligent flight modes simplify flight process and allow you to focus on art
Mechanical gimbal stabilization ensures videos are shake-free for ultimate quality
DJI 4 Go App compatibility allows you to quickly edit and share your videos on social media so your friends can get in on the action of your artistry
FHD video capture; 1080p at 30fps
Optional remote-control functionality
Blades can be used with safety guards for safer flight
Li-ion battery powered (battery included)
Compact; palm-sized
Ultralightweight at 1.5lbs
Negatives
Some people wish that the frame rate was set to 24fps or 60fps as those are considered more "standard" for aerial videography. However, this isn't too big of an issue because 30fps provides for FHD video free of choppiness and, if you've ever recorded video on a digital camera, you've probably used this frame rate before without instance. This con is more of a note for the videophiles among us.
The Spark isn't really intended to shoot professional-grade videos, which is why the frame rate is 30fps over 60fps. However, it's a great option for hobbyists and students.